General
After the summer slap… How did Mbappe try to spoil the Real Madrid deal?
After the summer slap… How did Mbappe try to spoil the Real Madrid deal?
Kylian Mbappe, the French star of Paris Saint-Germain, tried to strike another blow at Spanish club Real Madrid, during the last summer transfer period.
The Royal Club and its fans were subjected to a strong shock during the Mercato last summer, at the hands of Mbappe, after he decided to renew his contract with the "Parisian giant" at the last moments, refusing to move to the "Merengue" after the negotiations reached their final stages.
Mbappe was not satisfied with that matter, but was about to deal another blow to Real, represented in spoiling the contract deal with his compatriot Aurelien Tchoameni from Monaco, before the latter made his decision to join the royal.
Tchoamene revealed this matter in statements to the French newspaper L'Equipe, where he said: "Mbappe called me during the last summer transfer period, to find out what was going on in my head about my future."
He added, "Mbappe asked me to move to Paris Saint-Germain, but I preferred to join Real Madrid, because this was my first choice for a long time. I always feel that I am in the place I wanted to be."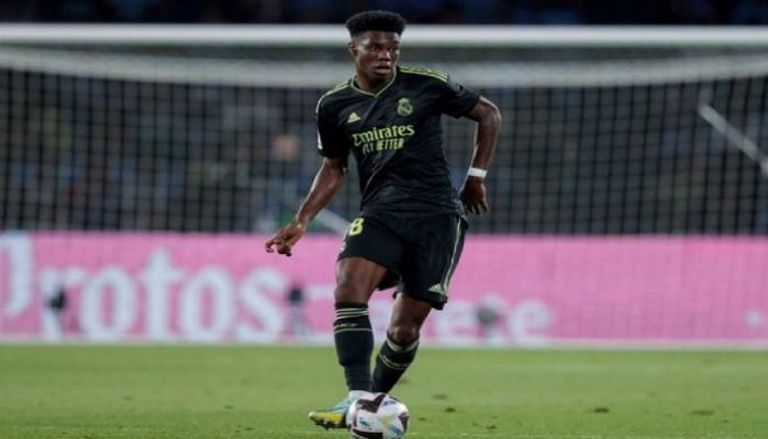 He touched on the pressure in Real Madrid, where he confirmed that he does not feel this matter with the Royal Club, explaining that he is used to such matters and does not feel intimidated.
Tchwamini, who was called up to the French national team's list to participate in the 2022 World Cup, confirmed that his first goal is to achieve championships and achievements and make the fans happy in what is to come, pointing out that he came to the Royal Club in order to play, not to watch.
He explained, "Casimiro's departure to Manchester United opened the door for me to participate, and I think his presence would have prevented my appearance to this extent, so things are going well this season."
He concluded by talking about fellow Croatian Luka Modric: "As a defensive midfielder, I find it very difficult to recover the ball from Modric, and I think that taking the ball away from him will make you do that with any player, because he is of a unique and different style from others."
Tchoamini joined Real Madrid during the last summer transfer period, coming from French Monaco, for 100 million euros, including additions and variables, according to Spanish and French reports.
Since Tshwamini joined Real Madrid, he has managed to secure a starting place, as he participated in 17 matches in all competitions, during which he assisted two goals and did not score any goal.
Tchouamini, 22, joined the France national team that will participate in the World Cup this month, after Didier Deschamps decided to choose him, as compensation for Paul Pogba's injury, Juventus midfielder, who will miss the World Cup.