General
After Wydad's men, the women of the Royal Army dominate the African Champions League
After Wydad's men, the women of the Royal Army dominate the African Champions League
Moroccan clubs continued their dominance in African football during the current year 2022, achieving a new achievement (Sunday), but this time on the level of women.
And the year 2022 witnessed the Wydad team crowned the CAF Champions League title for men after defeating Al-Ahly of Egypt in the final 2-0, and Nahdet Berkane was crowned in the African Confederation after defeating Orlando Pirates of South Africa on penalties.
In continuation of Moroccan control, the Royal Army team won the second edition of the African Women's Champions League (Sunday) at the expense of the South African Sun Downs team, the defending champion.
And that well-deserved coronation came, after dropping the defending champion by 4 goals without a response, during the final match that was held at Prince Moulay Abdullah Stadium in Morocco, which hosted the tournament.
The Royal Army benefited from a first early goal by attacker Fatima Taknaout, which came from a penalty kick a quarter of an hour after the start of the match, before it was reinforced by top scorer Ibtisam Jaradi with a hat-trick in the second half, after two players were sent off from Sun Downs.
Sun Downs player Rhoda Mulaudzi was initially dismissed in the 33rd minute of the first half, after a serious tackle on Zainab Al-Radwani, before her fellow defender, Ranel Planfo, was followed by two yellow cards in the fifty-three minute of the second half.
The Royal Army thus became the first Arab team to win the African Champions League title at the level of men and women, as it was crowned at the level of men with the title of the 1985 edition at the expense of the Congolese Dragons.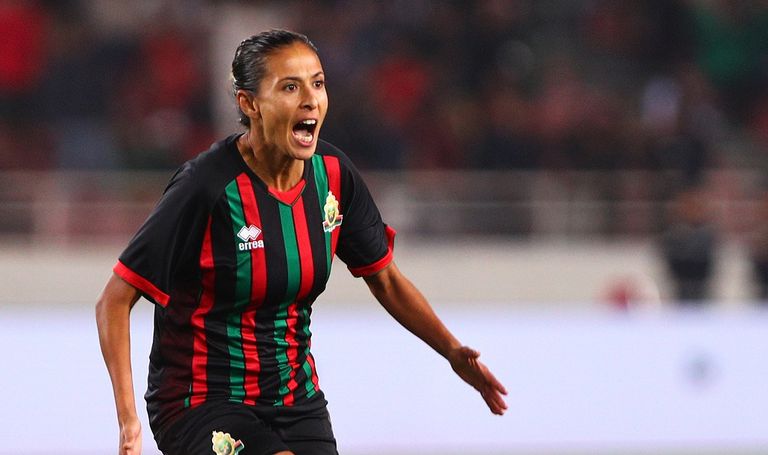 CAF Women's Champions League Awards
Ibtisam Jaradi was crowned the top scorer in the African Women's Champions League in its second edition, with 6 goals, in addition to being crowned the title of Women's Final Match against Sun Downs after her decisive hat-trick.
Khadija Al-Ramshi, the Royal Army goalkeeper, was crowned the best goalkeeper in the tournament, while the best player award went to her colleague Fatima Taknout, and the Nigerian Bayelsa Queens won the fair play award.