General
He deceived the world again.. "Fake Neymar" appears in the Brazil-Switzerland match
He deceived the world again. "Fake Neymar" appears in the Brazil-Switzerland match (video)
Neymar da Silva was absent from the Brazilian national team in the Switzerland match, due to the injury he suffered against Serbia, but he was present in a fake copy.
And won Brazilian national team defeated Switzerland, 1-0, during the match that brought them together, Monday, at Stadium 974, in the second round of Group G in World Cup 2022.
During the television broadcast of the match, footage of the Brazilian fans appeared in the stands of the "974" stadium, gathering around a person who looked like Neymar, and asking to take personal pictures with him.
What made the people on the field and the spectators in the stands completely convinced that he was the Brazilian star, unlike the form in which he appeared, was his presence on the field surrounded by personal guards.
Simultaneously, the Brazilian star posted a picture of him on his Instagram account while he was relaxing in the residence hotel and watching his teammates' victory over Switzerland.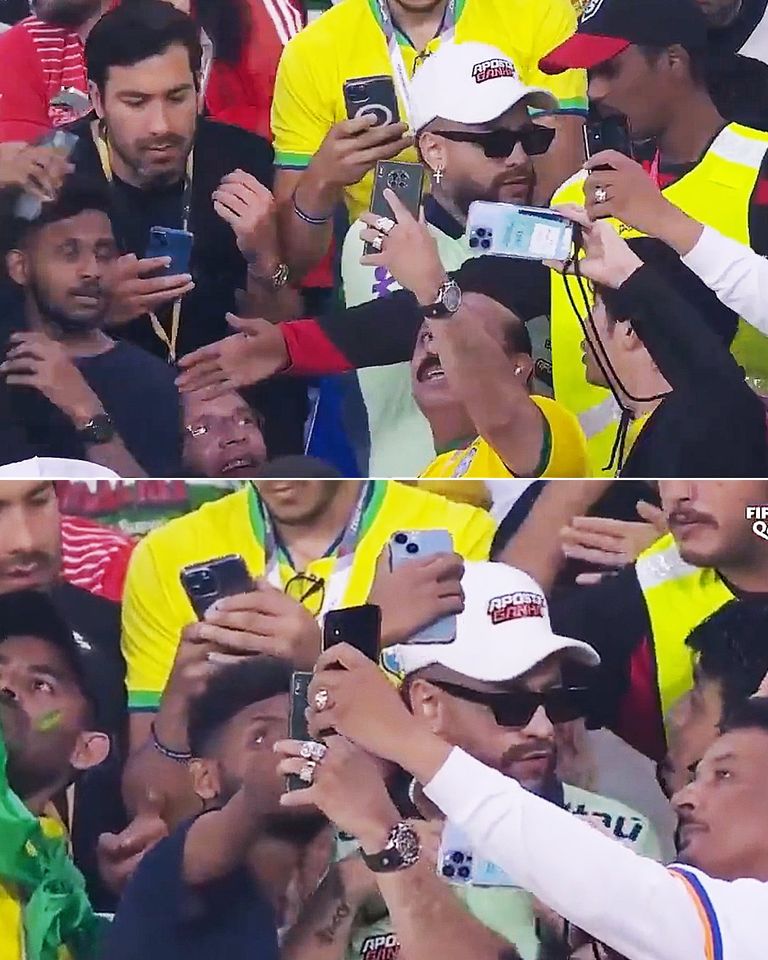 Neymar is continuing a qualifying period to recover from a severe ankle injury he suffered in the first match against Serbia, where he is being prepared to catch up to the final price match.
Meanwhile, the fans in the stadium continued to have fun with what they thought was the original Neymar.
Many media networks covering the tournament were deceived by the appearance of "false Neymar", as they thought the Brazilian star was already in the crowd to support the "samba dancers" morally.
And the matter did not stop there, as a Neymar look-alike was seen entering the match stadium and taking some memorial photos with the fans and with the elements of the organization, who considered him the Brazilian player.
This is not the first appearance of a "Neymar look-alike" in the media, as it caused confusion in many situations previously.
And the American "Fox Sports" network was previously deceived a few days ago when the same person appeared wandering in Doha, and the official account of the network published a post confirming that Neymar was wandering the streets of the Qatari capital, before clarification was made later.