General
"The best ever" .. How did Santos interact with Ronaldo's historic achievement?
"The best ever" .. How did Santos interact with Ronaldo's historic achievement?
Fernando Santos, coach of the Portuguese national team, made "fiery" statements after the achievement of his veteran player, Cristiano Ronaldo, in the World Cup.
Ronaldo scored a goal in Portugal's precious victory over Ghana, 3-2, during the match that brought the two sides together, in the first round of Group VIII and final competitions for the Qatar 2022 World Cup.
The 37-year-old Portuguese star became the first player in history to score in 5 World Cup tournaments, as he achieved this achievement during the 2006, 2010, 2014, 2018 and 2022 editions.
And about this exciting achievement, Santos said in statements at the press conference after the match: "Ronaldo is one of the greatest players in the history of football. We will continue to talk about him after 50 years, like many legends such as Diego Armando Maradona and Pele."
He added, "I am very happy to train a player like Ronaldo, as he is one of the best scorers in history, but rather the best ever, as he has achieved amazing achievements and titles."
For his part, Bruno Fernandez, the Portugal and Manchester United midfielder, said in televised statements after the match: "Ronaldo always likes to work under pressure, as he is an exceptional player."
He continued, "We are playing together for the national team, and all we have now is to focus on making our people happy by continuing to work and moving forward in the championship."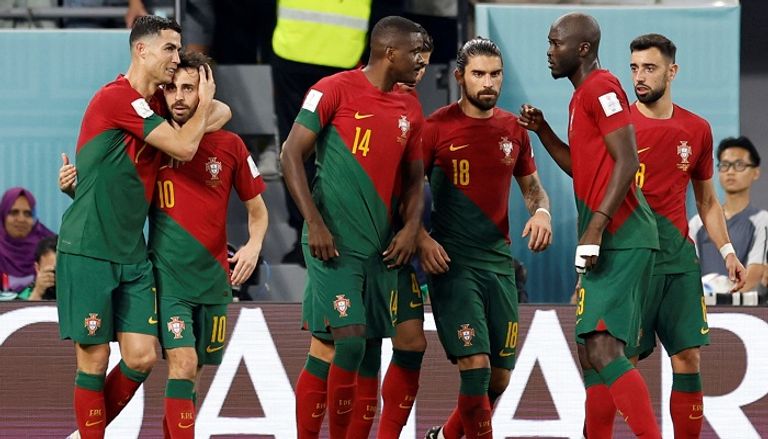 And press reports had indicated that there was a crisis between Fernandez and Ronaldo, after the latter's statements in which he criticized the administration, the club and Dutch coach Eric Ten Hag, a few days before the start of the 2022 World Cup camp.
A video of Bruno spread upon his arrival at the Portugal camp, where he clearly ignored Ronaldo while shaking hands with the players, which indicated that there was a crisis between them, before the duo later denied this matter.
It should be noted that Manchester United announced a few days ago, the termination of Ronaldo's contract by mutual consent, after 15 months of returning to the "Red Devils".