General
The magnetic effect… a possible explanation for a herd of sheep that has been revolving around itself for 12 days (exclusive)
A specialized expert ruled out that a herd of sheep rotating around itself in a circular ring 12 days ago had reasons related to a behavioral, pathological or organic defect.
Osama Abu Ismail, a professor at the Faculty of Veterinary Medicine, Mansoura University in Egypt, who specializes in animal behavior, told Al-Ain news that the most popular explanation that was repeated about the animal's "sheep sickness" is inaccurate at all, because when the disease affects the animal, it causes depression. Loss of appetite, fever and gonorrhea, which is not achieved in this case.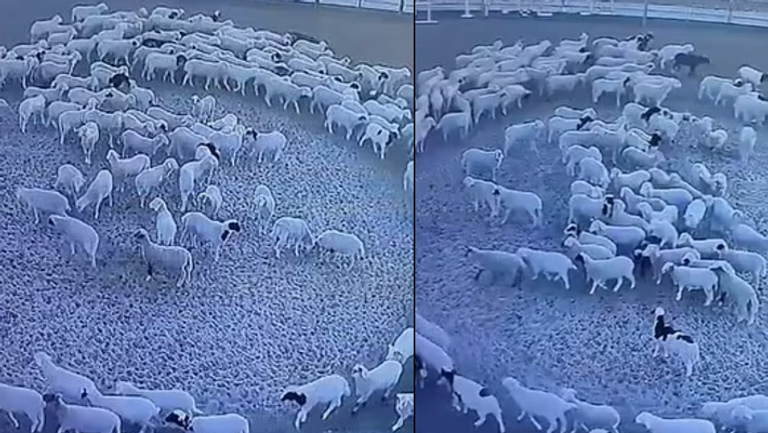 Abu Ismail believes that this behavior may be related to an environmental phenomenon that must be studied in the area, such as the animals being under a certain magnetic effect of gravity in the spot where they are.
He says: "This can be confirmed by bringing another group of healthy sheep from another place and placing them in the same spot and studying their conditions for a limited period of not less than a full year, as they were exposed to all seasons of the year."
Regarding another explanation, promoted by others, he talked about sheep practicing this behavior when they feel an upcoming danger, Abu Ismail said, "This is absolutely inaccurate talk, as some animals such as camels perform such behavior, not because they feel an upcoming danger, but during the mating of two individuals, to cover them." than the rest of the animals, and it does not last for a long time.
This behavior was recorded for 12 consecutive days on a farm in Inner Mongolia, north China.
The strange behavior, captured on surveillance cameras, shows the large swarm constantly walking in a clockwise direction in an almost perfect circle on the farm.
Other sheep can be seen, watching the spinning from the outside, while others sometimes stand motionless in the centre.
A video of the strange scene was released on Wednesday by the Chinese state-run People's Daily, which reported that the sheep were in good health and the cause of the behavior remains a mystery.
The newspaper's website reported that the owner of the sheep claimed that the scene began with a few sheep before the entire flock joined, and although there are 34 sheep pens on the farm, the sheep in one of the pens have been behaving this way since November 4.