General
Yemen, Libya and Syria.. The Egyptian presidency reveals the content of the Sisi-Biden talks
Yemen, Libya, and the Grand Ethiopian Renaissance Dam… The content of the discussions between Sisi and Biden
Egyptian President Abdel Fattah El-Sisi stressed the importance of settling the crises of Yemen, Libya and Syria, based on the concept of the national state and ending the presence of mercenaries and foreign militias.
This came during a meeting between the Egyptian President and US President Joe Biden, today, Friday, on the sidelines of the climate summit held in Sharm El-Sheikh, according to the Egyptian presidency.
The Egyptian presidency said in a statement, "The American president affirmed that his country considers Egypt a reliable friend and ally in the region."
And she continued, "The American president expressed his aspiration to intensify joint coordination on all regional and international issues in light of the political weight that Egypt enjoys and its balanced role in its regional environment."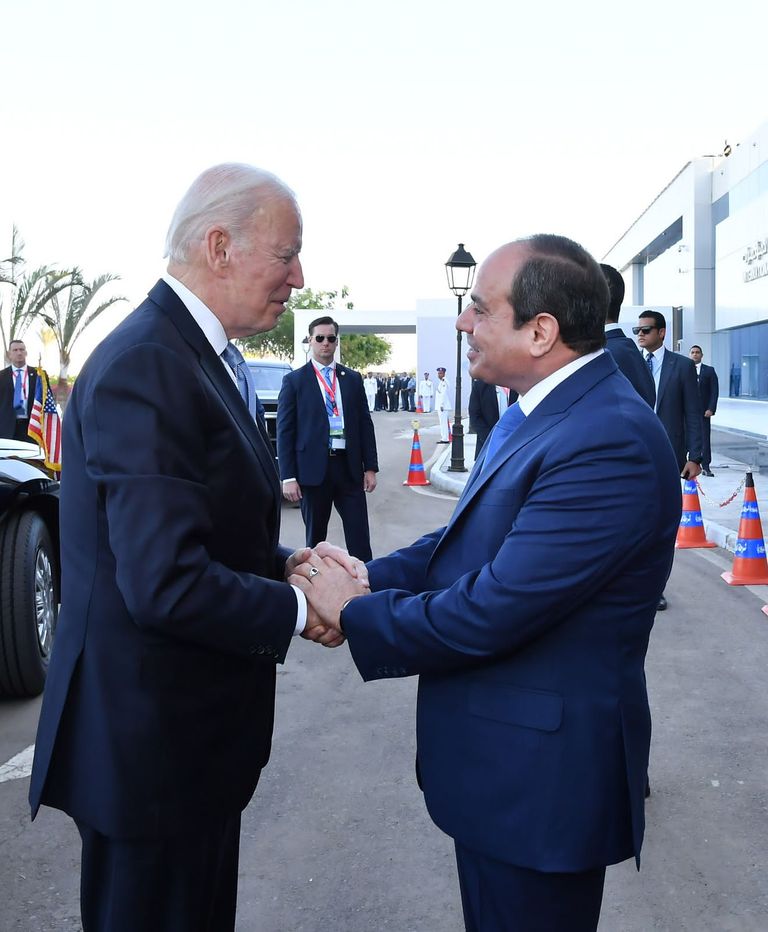 And she went on to say, "The meeting between Sisi and Biden touched on the developments of the Palestinian cause, the file of combating terrorism, extremist ideology, the Russian-Ukrainian crisis, and its negative repercussions on the world level."
According to the Egyptian presidency, Sisi assured Biden of Egypt's commitment to preserving its water security by reaching a binding legal agreement to fill and operate the Renaissance Dam.
And she continued, "Sisi stressed to Biden the importance of the American role to play an influential role in resolving the Renaissance Dam crisis."
Later, the White House said in a statement, "Biden discussed with Sisi the strategic partnership between Egypt and the United States and the global food security file."
"Biden expressed to Sisi the United States' support for Egypt's water rights," he added.